The representative PAIR Finance survey examines for the first time which payment methods, communication channels and times preferred by young adults when it comes to debt collection.
Almost half of respondents have missed a payment.
Professor Minou Goetze of Fresenius University: "Gen Z has a more positive attitude towards debt overall and is more open about debt collection experiences than previous generations."
Berlin, 26. June 2023 – Generation Z, those born in 1993 and later, are the first generation to have grown up in a digital world from an early age: Their money habits have most likely been influenced by the internet and social media. A representative survey of 1,000 Germans – including 291 adult members of Generation Z – by PAIR Finance and the Fresenius University of Applied Sciences in Hamburg, Germany, has now been published to find out how the generation is faring financially and how they feel about debt and debt collection.
Generation Z and finances: A quarter have had contact with debt collectors
As young adults, members of Generation Z have less experience of debt than other generations. Despite this, almost half (45%) have missed a payment and received a reminder. Almost a quarter (23%) have been contacted by a debt collection agency. The most common reason for missing a payment was forgetting to pay the outstanding bill (40%), followed by lack of money (16%) and overlooking the bill (9%). Half of respondents (45%) described their experience of debt collection as positive or neutral, the other half as negative (54%).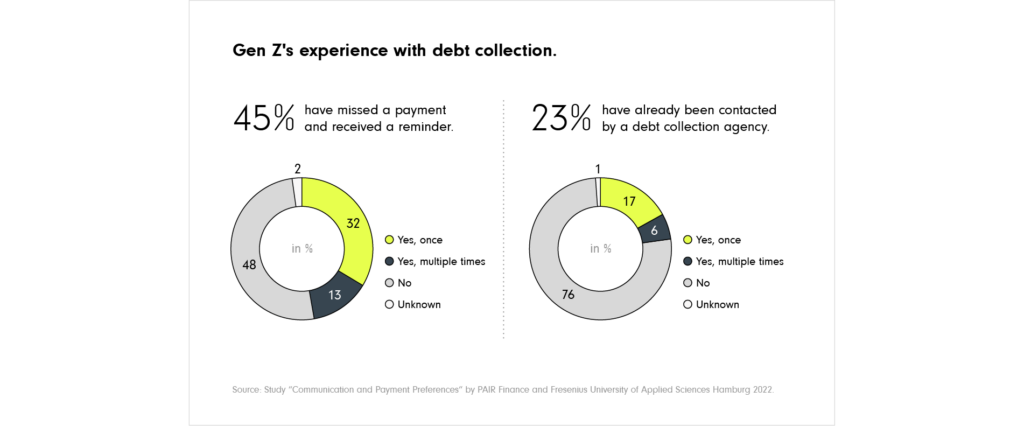 Young people have more positive attitudes towards debt collection
Payment by instalments is becoming increasingly popular. As a result, debt deferral is also on the rise. Not surprisingly, attitudes towards debt and debt collection are also changing. Both are perceived as more acceptable by younger consumers than by older generations. In addition to a generally more positive attitude towards debt collection, there is also a greater willingness to talk about debt: When asked if they would tell a friend if they were contacted by a debt collector, two thirds of Gen Z (66%) said yes. A quarter (24%) prefer to keep their debts to themselves.

"Generation Z has a more positive attitude towards debt overall and is more open about debt collection experiences than previous generations," says Prof. Dr. Minou Goetze, Professor of Decision Psychology at Fresenius University in Hamburg and head of the study. "Overall, this is a development with implications for society as a whole. Taking on debt at an early age can lead to long-term financial problems and a higher risk of debt throughout life. The lower repayment rates can also have a negative impact on the economy".
Most popular payment methods for Gen Z debt collection
When it came to paying an outstanding bill in collections, more than half of respondents preferred to pay using PayPal (46%), while other payment methods such as manual bank transfer (29%), credit card (8%) or Apple Pay (3%) were less frequently cited as popular options.
Gender, income and age within Gen Z also showed an impact on payment method preference. Young women were more likely than young men to prefer manual transfers via Klarna. Higher income was a significant predictor of preference for Apple Pay. Younger people in Gen Z are more likely to prefer Apple Pay.

Digital communication channels an important part of financial life
In terms of communication channel preferences, the survey results show that email was the most preferred and phone calls the least.
Specifically, email payment reminders were most frequently cited as a preferred channel by Gen Z (51%), closely followed by letters (36%) and Whatsapp (8%), while other channels such as SMS (4%) or phone calls (0.69%) were less frequently cited as a preferred option.
Whatsapp payment reminders are preferred by higher income consumers. Text messages are preferred by those living in urban areas. Gen Z women prefer letters more than men.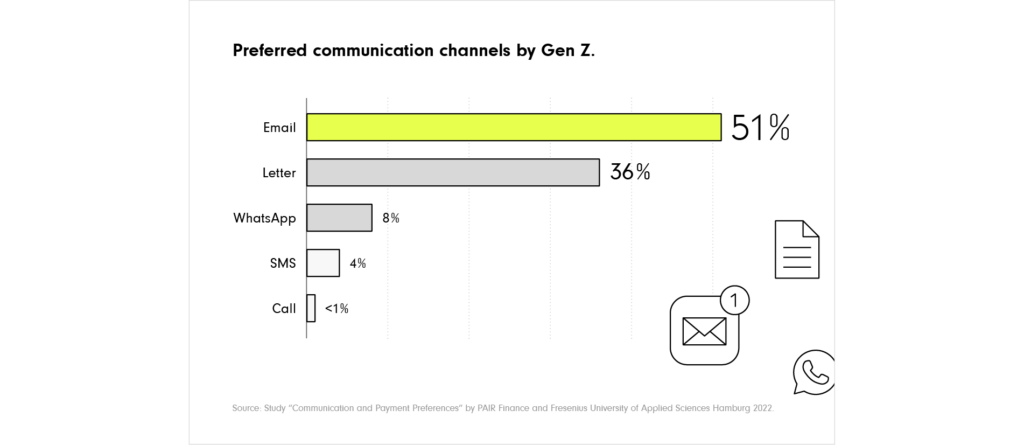 Individual preferred contact times
In terms of time of day, lunchtime (30%) and the afternoon (30%) were the most popular times for Gen Z to receive payment reminders. Morning was cited as a preferred time by a quarter (26%). In particular, female respondents were more likely than young men to prefer to receive notifications at lunchtime. The latter preferred the afternoon. In terms of income, Gen Z consumers with lower incomes were more likely to choose the evening as the ideal communication time.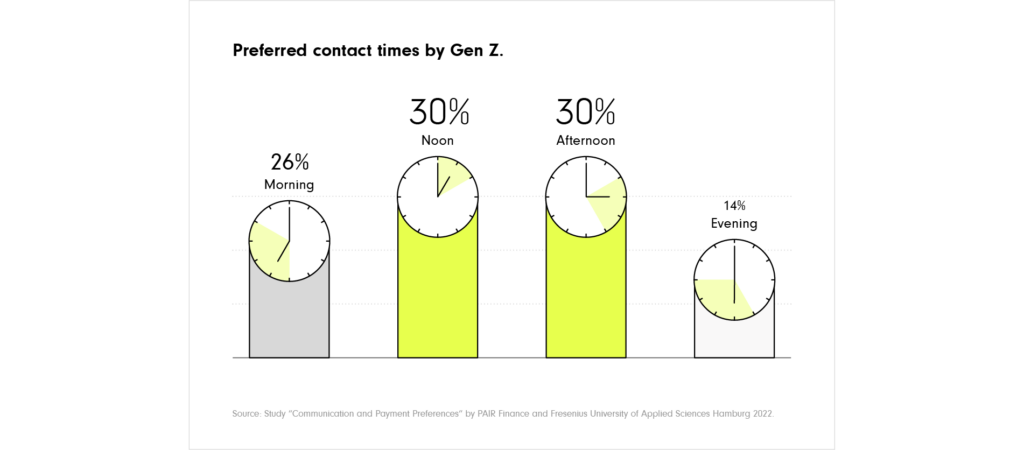 "The survey provides insights to better meet the communication and payment preferences of Generation Z," says Dr Sebastian Clajus, behavioural economist and head of the behavioural science team at PAIR Finance. "The results confirm that classic communication strategies, which may still work well for older people, are less suitable for younger age cohorts. It takes a very differentiated and individual approach and support to successfully reach Gen Z."
"By adapting to the new needs of Generation Z, businesses can not only improve the customer experience, but also increase the likelihood of successful collections," said Stephan Stricker, founder and CEO of PAIR Finance. "Advances in AI technology are already delivering impressive benefits for personalised communication with consumers* in debt collection. In the future, artificial intelligence will be able to help people avoid or settle their debts even better."
About the survey:

The representative survey was conducted online by Fresenius University of Applied Sciences Hamburg and PAIR Finance in 2022 in Germany among 1,000 adults aged 18-60. Of these, 291 are adult members of Generation Z (18-30 years old). The study, "Consumer Preferences and attitudes towards debt collection: A Cross-Generational Investigation" has undergone a peer review process and has recently been published in the International Journal of Marketing Studies.