Financial health is becoming increasingly important as a topic and new payment methods are coming to the fore. With the Save now, pay later (SNPL) method, customers save up to the full purchase amount in advance before buying. We asked Martin Granig, CEO & CoFounder of the Austrian SNPL app provider Monkee, why consciously saving on larger amounts is becoming more and more important right now, and for which merchants and consumers this is particularly attractive.
How does Save now, pay later work at Monkee?
Martin: Monkee's mission is to help people achieve their goals and dreams without going into debt. Our entire app is built around the theme of goals, from the nest egg to a vacation to a school laptop for the kids. We break these savings goals down into challenges for our users.
An example: 500 euros for a laptop is a lot of money at once. But if you save 10 euros a week over a certain period of time, you'll also reach the total amount. Just as fitness apps set a daily goal of 10,000 steps to improve the overall fitness of their users, we also break something intangible down into several concrete steps. We try to bring the goals from the future into the present.
How does saving with Monkee work in detail?
Martin: The first step is to connect your existing bank account to the Monkee app. This is possible with any account in Germany or Austria. After that, you have several options for saving, for example with our so-called Autopilot. With this, one activates an automatic debit, which is set once. Every time you interact with the app, you save smaller amounts, but they add up. You can change everything at any time and save more or less, or reduce the autopilot. With push notifications, we help our users develop healthy financial habits and support them in saving.
The second part of the app is the Future Boost. We noticed that many of our users are saving for very specific things. So, we started to build partnerships with other companies that sell what our users are saving for. For example, if someone is saving for a vacation and is close to reaching that savings goal, we point them to our partners who offer vacations. When they book a vacation with one of our partners, they get money back, i.e. cashback into the Monkee Wallet for their next savings goals. On average, our users can grow their savings by 10% per year by doing part of their shopping through the Monkee app.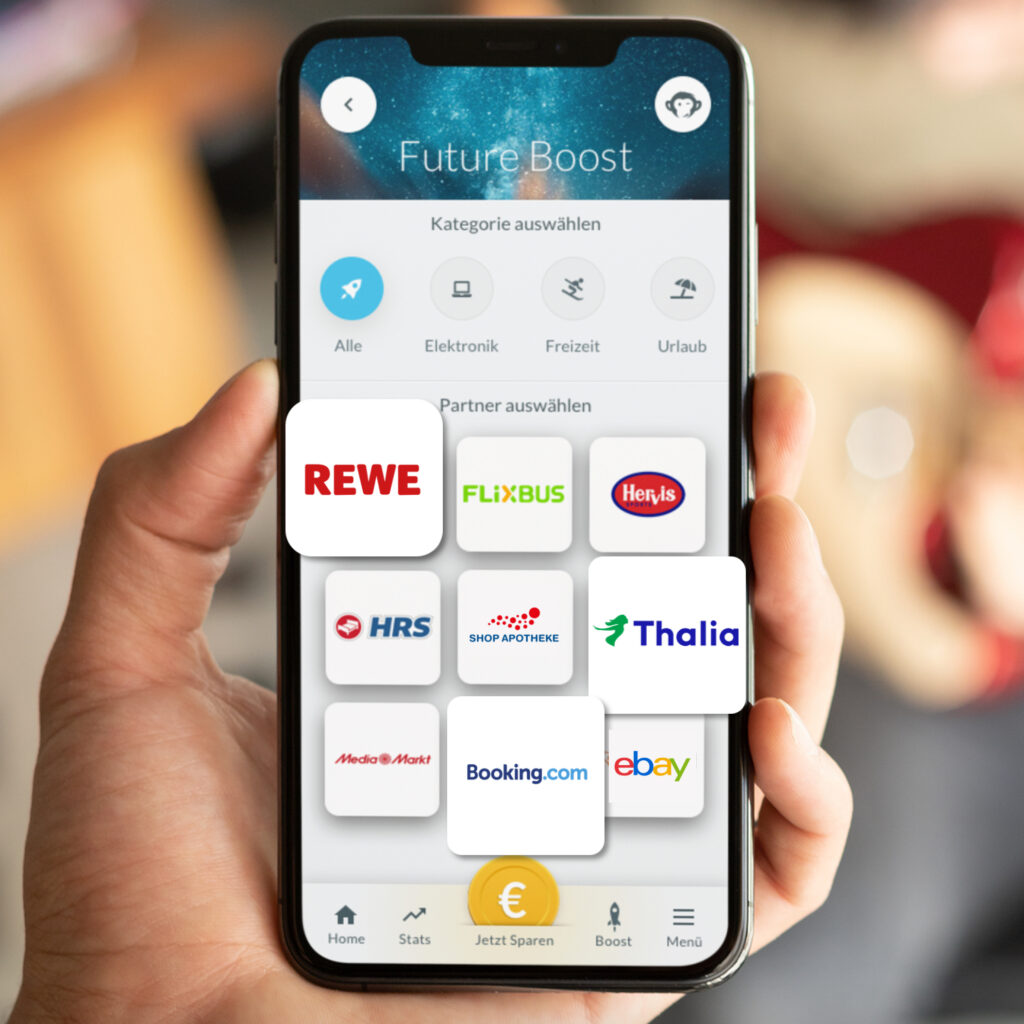 During the pandemic, we have seen that everyday expenses such as food or medicine have become increasingly relevant. Therefore, we have also built strong partnerships in these areas. We now have around 400 partners.
For companies in which industries is Save now, pay later with Monkee most interesting?
Martin: Our app is particularly interesting for companies that attach great importance to sustainable growth. The savings goals of our users are very broad. The goal evergreens are: the nest egg, vacations, sports and leisure items such as skis or bicycles, electronic items such as laptops and smartphones, home and living items and mobility goals such as driver's licenses, cars and motorcycles.
At the moment, many people are also saving up for energy back payments. Payments that are only due once a year are usually a distant thought for many. But instead of repressing in the other months that once a year a large payment must be made, one can save as best as possible each month a partial amount. In this way, the future bill is no longer far away from now, but a fixed part of everyday financial life.
Is Save now, pay later also suitable for the stationary retail?
Martin: Absolutely. With the Monkee Payment Card, which we offer together with Visa, we want to bring the Future Boost benefits to stationary retail very soon. So then someone who pays with the Monkee card in a partner store will get 5-10% cash back on their savings goals. Brands can create positive touchpoints with us in this way. Someone who is a retail partner of Monkee is automatically mentally associated by the user with the positive experience of the reward through the Future Boost system.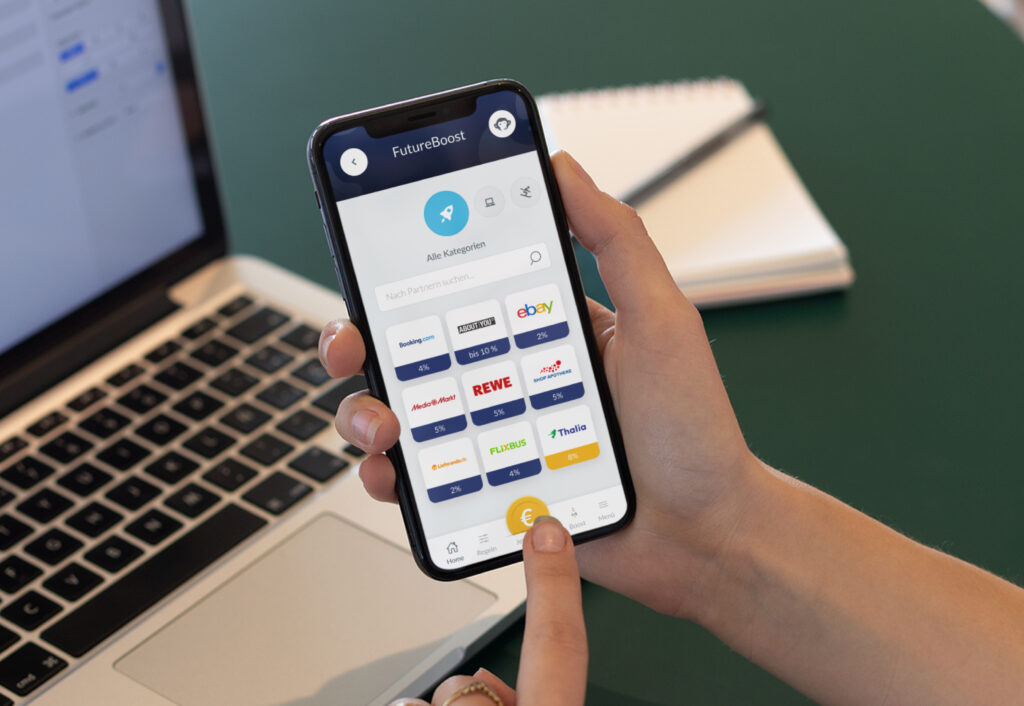 More and more people want to improve their financial habits and use digital coaches such as Fabit, with whom PAIR Finance also works together. Why is the topic of financial health more topical than ever right now?
Martin: In general, the trend is for consumers to put more and more emphasis on the topic of wellbeing, because their own wellbeing is very important to them. There are many studies that show that people who are financially unhealthy automatically live physically and mentally unhealthier lives. Money worries are the number one factor for stress, and when someone is stressed in one area, it negatively affects the other areas of their life. A cycle is created in which financial, mental, and physical health are mutually dependent.
At the end of the day, it's always about the tension between immediate and future rewards: If I don't eat the schnitzel in the restaurant today, for example, I won't be healthier right away. It's only when I permanently change my diet and move more that I will be healthier in the future. And the same is true for financial health. I must think about tomorrow today and put money aside so that I won't have financial problems in the future and can afford nice things.
Especially now that costs are rising and rising, however, the buffer between expenses and the money available to consumers is becoming smaller and smaller or even no longer exists at all. This affects, among others, those who pay off several installments and can no longer pay them. So there are more and more defaults. We think it's good that PAIR Finance is both user-friendly and customer-oriented when it comes to repaying open invoices, and that it relies on a modern, digital setup in debt collection.
Do you see Save now, pay later as the antithesis of Buy now, pay later?
Martin: For us at Monkee, Save now, pay later is the responsible alternative to Buy now, pay later. Sustainability is very important to us and we believe it is more sustainable to empower consumers financially with the method of saving up for something first and buying it later. We also see that more and more companies are thinking about whether installment purchases and consumer loans are in line with their sustainability strategy. But of course, Buy now, pay later also has its advantages. It enables people who, for example, are faced with a large bill in an emergency and can't actually handle it themselves, to pay immediately.
And what happens when someone reaches their savings goal?
Martin: The money remains in the Monkee account until the user decides to withdraw it to the reference bank account. Sometimes savings goals change over time. Initially intended for vacations, some users change their vacation savings goal to a utility payment savings goal during the savings process, for example. The app is very flexible in this respect. Many users are totally happy that they started saving when they have to make unexpectedly high payments. Otherwise, they would have had to overdraw their account or take out a small loan.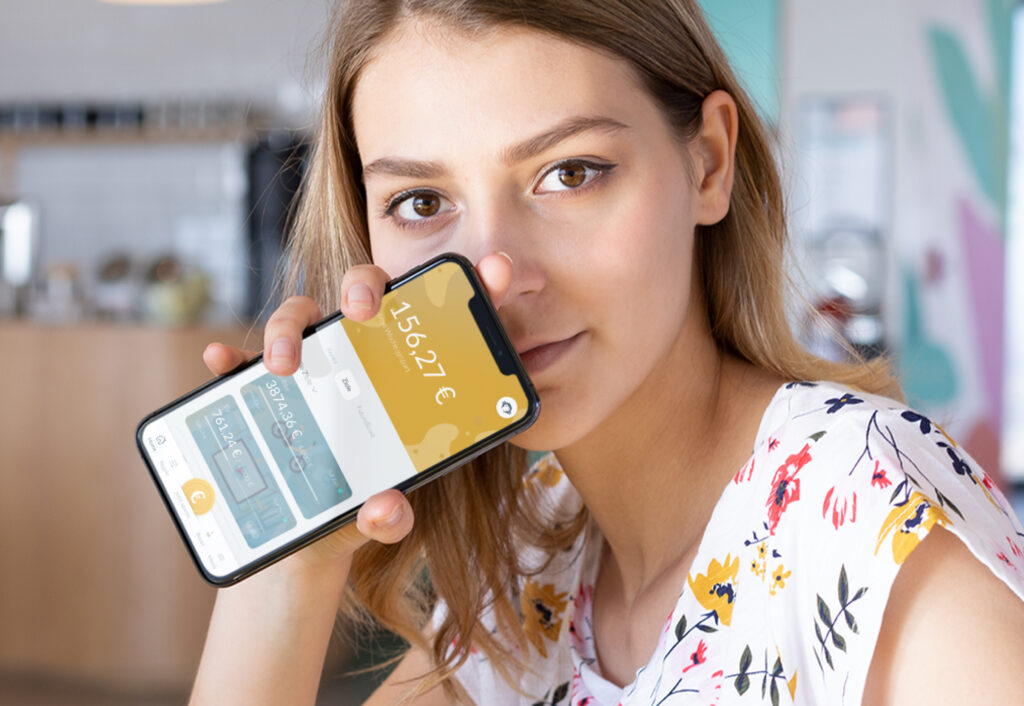 For which customers is SNPL suitable?
Martin: Our target group is consumers who want to be more aware of their finances. Instead of buying something directly, they prefer to wait until they have reached the full amount.
Roughly speaking, we see two clusters of Monkee users. On the one hand, there are the necessity savers: they save on basics such as a nest egg or other needs and usually belong to the middle-income group. And then there are the lifestyle savers: they save for fancy vacations, the latest smartphone, and other lifestyle items, i.e. wants, and have higher incomes.
In addition to the general trend toward financial health, we are also currently experiencing a strong female finance trend. New generations of self-confident women want to take their finances into their own hands. This trend is also reflected in Monkee: 85% of the people who use our app are women. That's above average for a finance app.
Thank you, Martin, for taking the time!
---
Would you like to work with PAIR Finance's customer-focused AI collection service?