The first "Social Day" of PAIR Finance at "Die Arche" Kinderstiftung took place on the Thursday before Easter at the Arche headquarters in Berlin-Hellersdorf and had a lot to offer: A big bouncy castle in the shape of Noah's Ark, handicraft activities, games, a joint lunch and an Easter egg hunt. Twelve colleagues from different PAIR Finance teams were there to support the Social Day and to give more than 30 children between 2 and 6 years of age a good time and a lot of attention.
"It was just incredible fun to spend a cheerful morning with the children playing games, doing handicrafts and dancing. It is nice to see that an institution like the Arche makes it possible for children from families with difficult circumstances to simply have fun and feel free," says Nikolaus Wendl, Business Development Manager at PAIR Finance.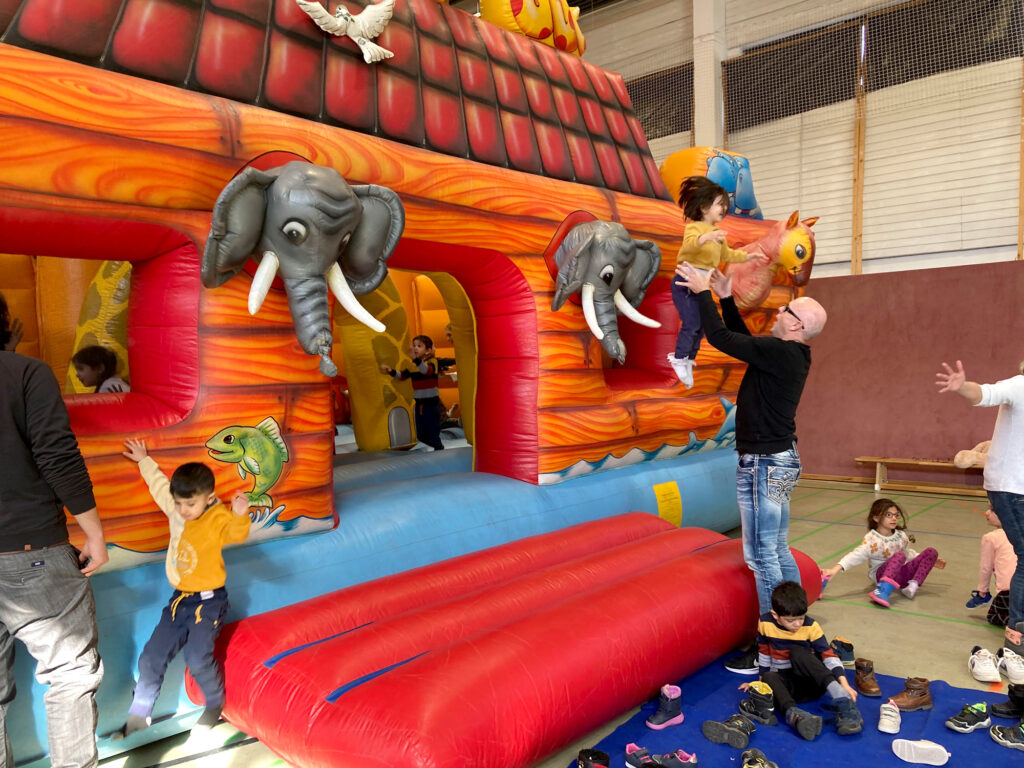 The main attraction of this Social Day was an outdoor Easter egg hunt. When everyone had found their basket, the children proudly showed us their prey: "Look, my Easter egg is blue and that was the only blue egg! Blue is my favourite colour." After lunch, we rounded off the eventful day at the Arche playground with plenty of room for exercise on the trampoline, zip line, swings and climbing frame.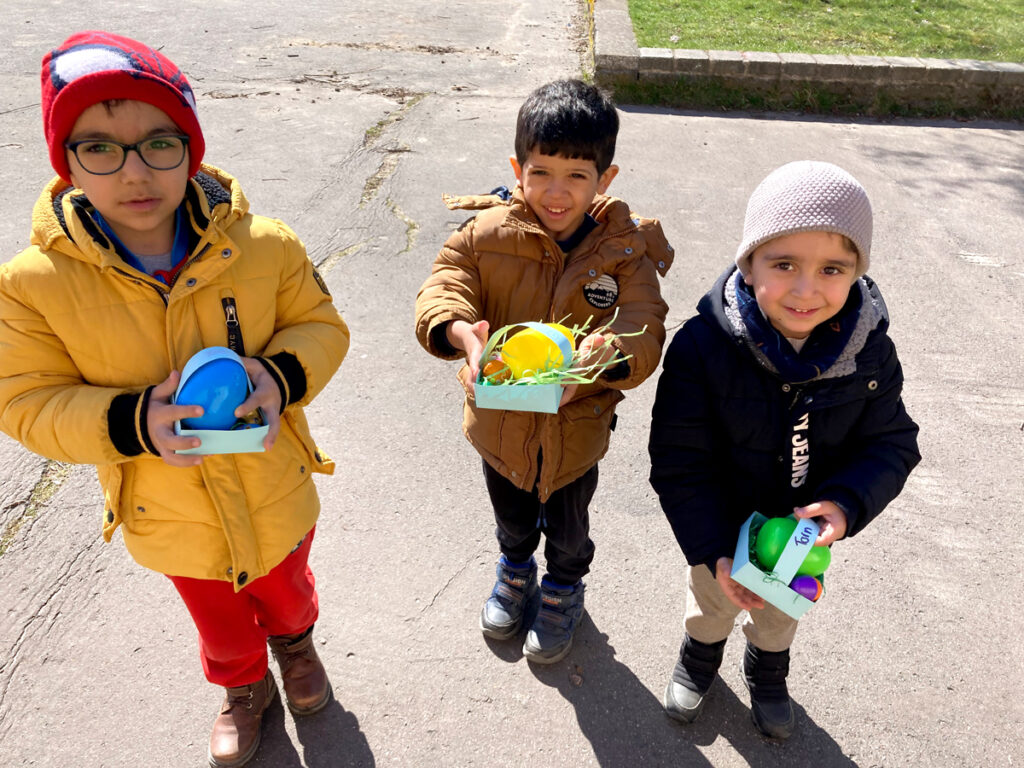 ​​Melanie Kanatschnig works as a social worker in the toddler area of the Arche in Berlin-Hellersdorf and planned our Social Day before the Easter weekend in April. She tells us: "The daily routine at the Arche is similar to a day care centre: we have breakfast together with the children, a morning circle, play and eat lunch together, do handicrafts, go to the playground, do sports and rest." Social days stand out positively and bring variety. "These days are real highlights for our children, because we always organise something special and big on Social Days thanks to the donation of a company and its local support," Melanie explains to us.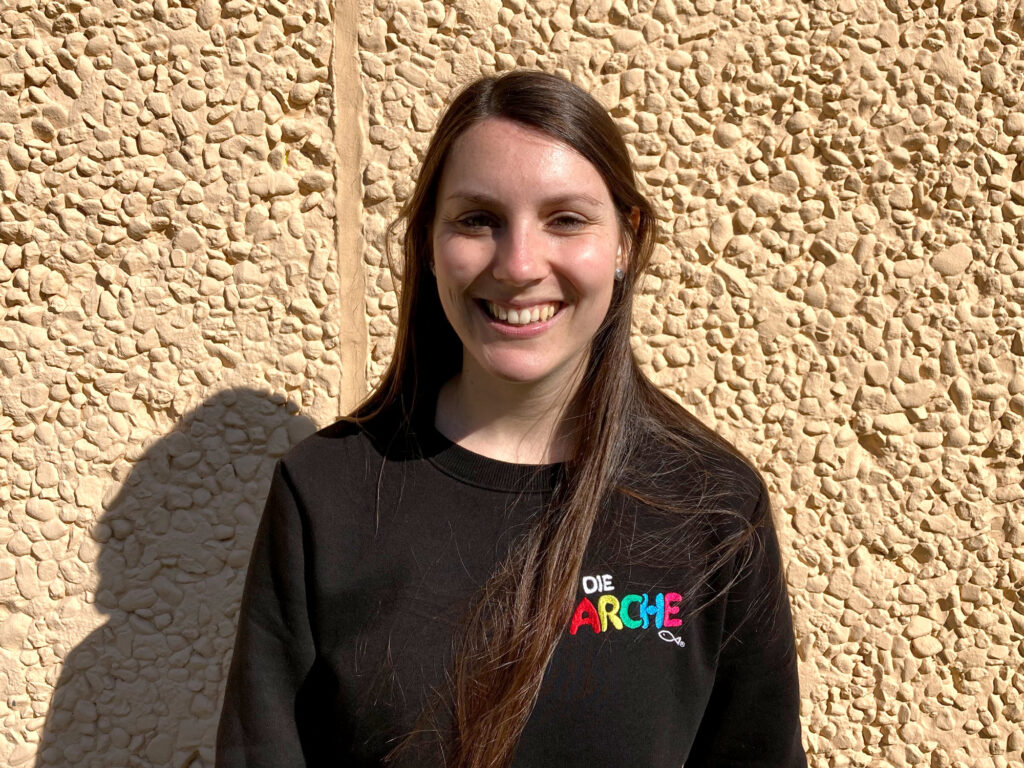 The team at the Arche in Berlin-Hellersdorf plans exactly what the programme for such a day looks like individually, depending on the time of year and also on how a company wants to get involved. "The children are always happy when many adults are there to give them attention and provide fun. The parents really appreciate these special days and we ourselves also enjoy the social days very much," Melanie emphasises.
Isilay Demir, Collection Manager at PAIR Finance: "It touched me personally to accompany the employees of the Arche in their work with the children and to participate in this special day. I am happy to have an employer who is socially committed and gives us the chance to contribute something."
The Arche supports the youngest members of our society and combats child poverty throughout Germany with numerous educational, childcare and cultural programmes. We at PAIR Finance have been supporting the Arche for several years with financial and material donations and are already planning further joint campaigns. We are already looking forward to the next time.
A film team from the international news agency Reuters was also on site at our first Social Day. The report produced there points out the negative influence of inflation on child poverty and can be found on the FAZ Youtube channel.
You would also like to support the Arche?